Bicycle and Pedestrian Accidents
Struck by a Car in The Los Angeles Area?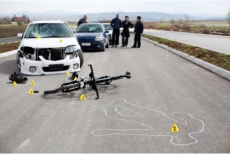 In a brief moment your life is turned upside down when you or a loved one is hit by a car. Now comes the long, painful recovery, and a host of problems and worries, including medical bills, lost income, potential future medical expenses, the uncertainty about a full recovery or the harsh reality of a permanent disability.
In most bicycle and pedestrian accidents a negligent or inattentive automobile driver is usually at fault, however, the other party may try to blame the pedestrian or cyclist for causing the accident. We bring years of experience and expertise to benefit our clients who are bicycle riders and pedestrians. This includes a thorough knowledge of related California vehicle laws, accident reconstruction techniques, roadway designs, bicycle design and manufacturing issues. We have successfully handled many scenarios, including hit-and-run, pedestrian knock-downs and bicycle accidents. If the driver is unknown, we can seek coverage through the victim's auto insurance policy where there is uninsured motorist coverage.
When Vehicles Collide With a Cyclist or Pedestrian
Bicycle and pedestrian accidents are unfortunately all too common on our busy street, often resulting in catastrophic injuries or death. In our settlements and verdicts in bicycle or pedestrian accidents, we have recovered compensation for:
Head trauma and traumatic brain injury
Spinal cord damage and back and neck injuries
Severe fractures
Physical disfigurement
Lacerations and road rash abrasions
Wrongful death
Building a Case For Justice • Free Case Evaluation
It is important to pursue sufficient compensation to cover the future needs of a bicycle accident or pedestrian accident victim. We will handle your case from investigation and calculation of damages to settlement or trial. Call us toll free at (866) 976-1299 for a free consultation. We can make home or hospital visits and there are no attorney's fees unless we recover compensation.